Unlock Your Website's Potential with a FREE SEO Audit
Drive More Organic Traffic and Boost Your Rankings!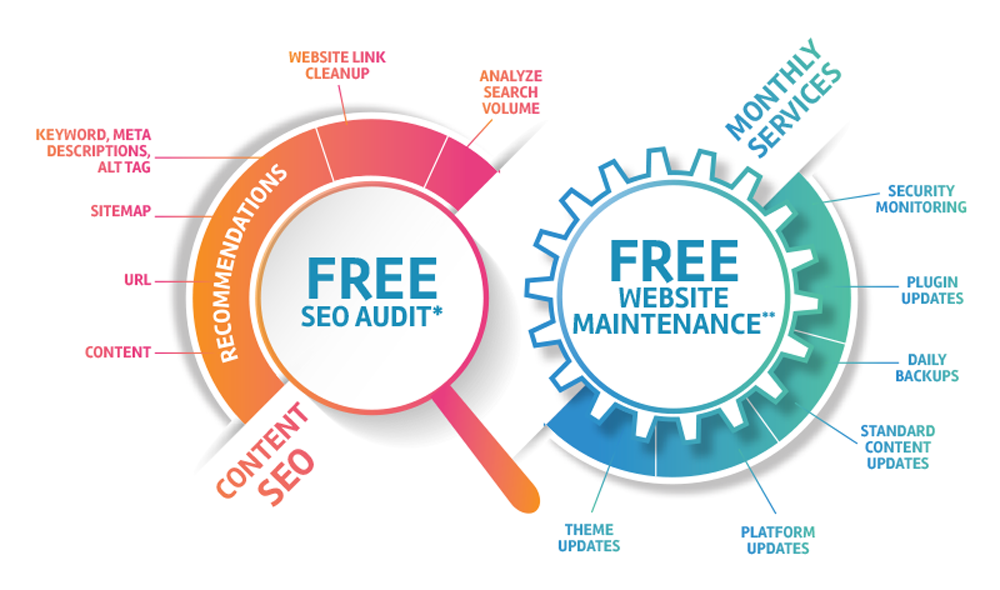 Free SEO audit you said? If you are you looking to improve your website's search engine visibility then you are in the right place! Our team of experts is here to help you. Take advantage of our Free SEO Audit to get valuable insights and recommendations for optimizing your website's performance. Get Connected and receive 60 days FREE!
An SEO Audit is an effective way to evaluate the search engine friendliness of your website and to get a glimpse into how your website is performing on Google and other search engines. These recommendations, when implemented and combined with our WordPress Maintenance1 services are designed to improve your rank for high-quality keywords and improve user experience to promote more calls and increased sales.
How to Get Your Free SEO Audit
Getting your Free SEO Audit is simple. Just provide us with your website URL and some basic information, and our team will get to work. Within a short time, you'll receive a detailed audit report straight to your inbox and a few other free goodies in the mail absolutely free of charge. Start optimizing your website for search engines today! Get your Free SEO Audit now and unlock the potential for greater online visibility and success.
1SEO services can be performed on any website platform, however maintenance services are designed for WordPress and an existing WordPress platform must be in use for this service. If you would like to learn the benefits of transitioning your website to WordPress, please contact us to learn more!
2After 60 days, renew any service for 6 months and receive a 20% discount! Follow-on renewals maybe invoiced monthly at the prevailing rate(s).