Unlock Your Website's Potential with a FREE SEO Audit
Drive More Organic Traffic and Boost Your Rankings!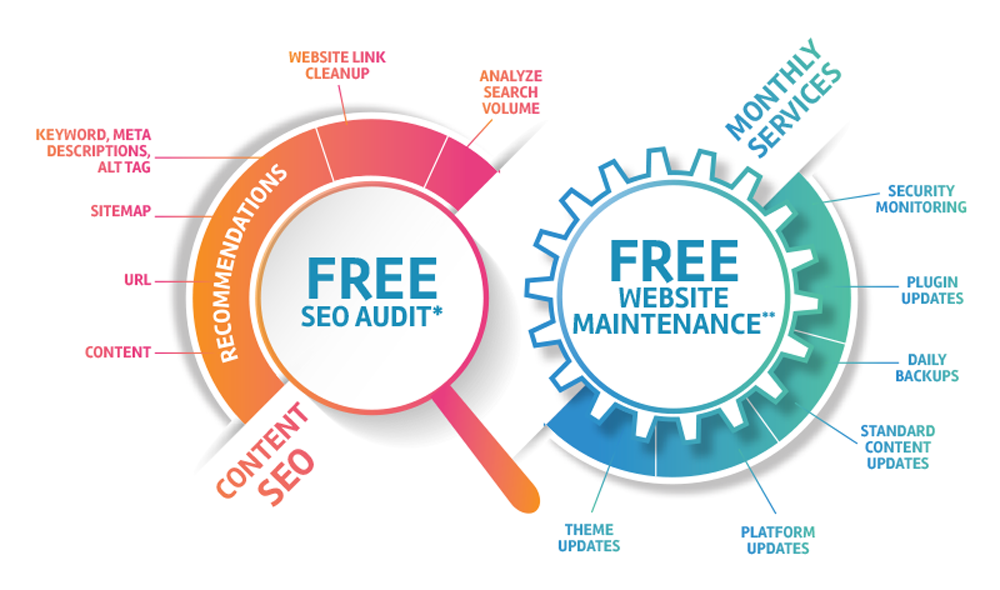 Free SEO audit you said? If you are you looking to improve your website's search engine visibility then you are in the right place! Our team of experts is here to help you. Take advantage of our Free SEO Audit to get valuable insights and recommendations for optimizing your website's performance. Get Connected and receive 60 days FREE!
An SEO Audit is an effective way to evaluate the search engine friendliness of your website and to get a glimpse into how your website is performing on Google and other search engines. These recommendations, when implemented and combined with our WordPress Maintenance1 services are designed to improve your rank for high-quality keywords and improve user experience to promote more calls and increased sales.
How to Get Your Free SEO Audit
Getting your Free SEO Audit is simple. Just provide us with your website URL and some basic information, and our team will get to work. Within a short time, you'll receive a detailed audit report straight to your inbox and a few other free goodies in the mail absolutely free of charge. Start optimizing your website for search engines today! Get your Free SEO Audit now and unlock the potential for greater online visibility and success.
1SEO services can be performed on any website platform, however maintenance services are designed for WordPress and an existing WordPress platform must be in use for this service. If you would like to learn the benefits of transitioning your website to WordPress, please contact us to learn more!
2After 60 days, renew any service for 6 months and receive a 20% discount! Follow-on renewals maybe invoiced monthly at the prevailing rate(s).
Why did my rank drop when the SEO changes were made?
KMJ Web Design
2023-05-31T12:45:17-07:00
There can be several reasons why your rank may have dropped after making SEO changes. It's important to keep in mind that SEO is a complex and dynamic process, and changes in rankings can occur due to various factors. Here are a few possible explanations:
Algorithm Updates: Search engines like Google regularly update their algorithms to improve search results and user experience. These updates can impact rankings, and if your changes coincided with an algorithm update, it could have affected your position. Monitoring algorithm changes and adjusting your SEO strategy accordingly is crucial.
Competition: The online landscape is competitive, and your competitors might also be implementing SEO strategies to improve their rankings. If they made significant improvements, it could have affected your position in the search results. Continuous monitoring and adapting your strategy to outperform your competitors is essential.
Technical Issues: While you made SEO changes, there might have been technical issues that negatively impacted your website's performance. These could include broken links, slow page speed, or improper implementation of SEO elements. Conducting a thorough technical audit can help identify and resolve such issues.
Content Quality: Changes to your content, such as keyword optimization or restructuring, might have inadvertently affected the quality and relevance of your pages. Search engines prioritize high-quality, informative content that meets user intent. Assess the impact of your content changes and ensure they align with SEO best practices.
Backlink Profile: Backlinks play a significant role in SEO rankings. If you made changes that affected your backlink profile, such as removing or disavowing low-quality or spammy links, it could impact your rankings. Strive to build a strong, diverse, and authoritative backlink profile through ethical link-building practices.
Patience and Timing: SEO is not an instant process, and it can take time for search engines to recognize and reflect the changes you've made. Additionally, seasonal fluctuations or industry trends can impact rankings. It's important to be patient, monitor progress over time, and make adjustments as needed.